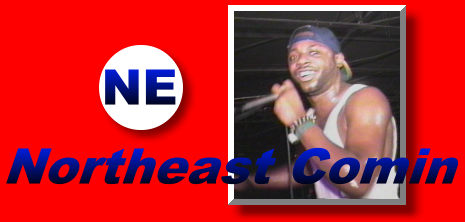 The Northeast Groovers have been entertaining the D.C. area for 15 years now. Like a fine wine they have become better with age. Their shows are the livest and their beats crank the hardest. No other band delivers the unique style of go-go like the Groovers do. As you probably already know they no longer have Chris aka "Rah Rah" up there on the mic to sise up the crowds. With that in mind and the loss of another key band member, "32", NEG fans are questioning the future of one of Go-Go's crankingest bands.
The Band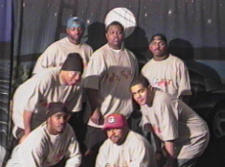 THEM BAMAS BE CRANKIN!
City Symphony
-Bass Guitar-
Name: Khari Pratt aka "Khari" Age: 25
Special Interests: movies, concerts, playstation, designing clothes, spending time with kids
-Keyboards-
Names: Lamond Perkins aka "Maestro", Ronald Utley aka "88" Age: Maestro-22, Ronald-25
Special Interests: Maestro-movies, & producing music; Ronald Utley-producing music, spending time with kids
Front Line

Dave "#32" and "Rah Rah" both left the band to play elsewhere.
-Lead Rapper-

-Lead Talker-


Name: David Ellis aka "32" aka "Duece"
Age: 27
Special Interests: basketball & playstation

Name: Christian Black aka "Rah"
Age: 28
Special Interests: basketball & boxing
-Lead Vocalist-


Name: Leonard Huggins aka "Daddy O" aka "Hugg" aka "Big Daddy"
Age: 26
Special Interests: writing music & spending time with son


Posse
-Roto Toms-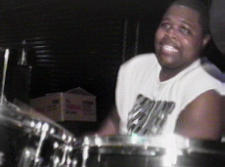 Name: Ronald Dixon aka "DIG-DUG" Age: 24
Special Interests: firefighting & spending time with son
-Drummer-
Name: Larry Atwater aka "Stomp Dogg" Age: 19
Special Interests: drums, church & spending time time with kids
-Congos-
Name: Samuel Dews aka "Smoke" Age: 25
Special Interests: playstation, football, basketball, hanging with the fella's, playing the congo's, spending time with sons

Weekly Shows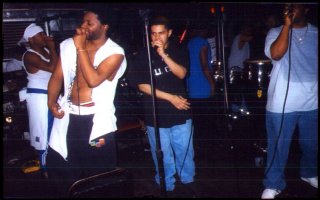 Wednesday
Deno's (2335 Bladensburg Rd., NE Washington D.C.) a.k.a. Metro Club from 10pm - 2am
I think its $5 before 11pm and $10 after

Friday
The new spot out in Waldorf, MD.

Saturday
The Icebox (2221 Adams Pl., NE Washington D.C.)from 11pm-4am
Before 11:30pm: ladies are free and fellas pay $5, $10 after

Sunday
Northeast Groovers at Hillside Firehouse, 4pm-8pm, $5 B4 5pm
History
The band was formed in 1985, consisting of nine aspiring young artists from the Washington D.C area, who's ages range from 18-29. This talented group has created their own unique style of playing music, by taking Top Forty and Rap music and incorporating it with the band's energetic Go Go percussions. They have sice performed at many night clubs, concert halls and venues locally and abroad including: The Classic Metro Club Black Scorpio, Fairlanes Bowling, La Plata Armory, Taj Maehall, Black Hole, Suga Kane Palace, Ibex, Bumpers, Rythems. Their strong vibrant sound has placed Northeast Groovers well among their peers. Northeast Groovers released their first single "Vann Damme" in September of 1993. This led the way for ther hit singles like "The Water" and "Twenty Minute Workout". All of these singles appeared on their debut album "Straight from the Basement" which was followed by N.E.G Jams and hit singles on many publications including Billboard Magazine and the Washington Post. Each time recieving positive reviews, even through the years being called "indisputably the hottest Go Go band in D.C." In 1996 they let evrybody know about the "Goosebumps!" with that number one hit single. Over the many years the group has taken the opportunities given to them to educate their fans on social issues such as AIDS awareness and bringing a stop to violent crime in the Washington D.C area. The group has also taken their time to play at charity and fund rasing events to benefit local communities. Through their commitment they have recieved many awards from different organizations such as, The N.E. Performing Arts Group, WPGC FM Radio and Go Go Swings Magazine, who conducted an Online poll in which Northeast Groovers won several awards. Today you can hear Northeast hit just all the hot tracks like: "Hot Boyz and Girlz", "Make Em Say Unngh!", "The Rocket!", "Dip!", "All About the Benjamins", "Funky Hump", and many many more. Having such an impact on their audiences and fans, Northeast Groovers can be expected to impart music that will be heard and enjoyed for many years to come.

Northeast Albums
Other Go-Go Bands