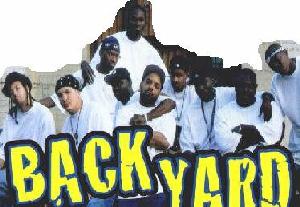 The Bad Boyz of Go-Go


Band Members
| | | |
| --- | --- | --- |
| Big G (Talker/Rapper) | Los (Rapper) | Bruce (Rapper/Singer) |

Sauce a.k.a. Hotsauce - Congos
Wincee a.k.a. Wink - Singer & plays the Cow Bell
E.B. - Keyboard
Mike - Keyboard
Buggs a.k.a. Buggie - Drums
Bubba - Lead Guitar
Leroy - Guitar
New Releases
Coming Soon
History
Backyard has had a tremendous impact on the go-go world ever since they came on the scene in 1991. Like the bands before them they started out with amateur equipment and little money. In their early years they hit us with songs like the famous '91 Dope Jam and I Got Five On It. Backyard began a new style of go-go where they would take popular rap songs and hook them up with a phat go-go beat. This new style is what most young bands use today
The Dope Jam became an annual thing of the '90s. Every year from 1993 until the present Backyard fans anxiously await the new Dope Jam every year. In '93 it was Killas in Da Park, '96 -- It's 1996! (Kill em All), '97 -- Drop Da Unibomba, '98 -- Tear Da Club Up!
Back has played in North Carolina, Virginia, Atlanta (Freaknic) and all over the D.C. area. You can see them live five days a week at various clubs in D.C. They are also known to rock any high school who can afford them.
Back introduced us to a more hardcore style of go-go that continues to keep young go-go fans partying til the break of dawn at every show. Ignore the bad publicity they get because not only is it false but its just another attempt at destroying go-go as a whole. With the help of their lead rapper & superstar go-go figure, Big G (graduate of Wilson HS), Backyard will be "tearing da club up" til 2000 and beyond.